I am writing this in full belief that there will be someone reading it that has some sort of influence in the soccer world.
What would give me that sort of confidence?
If you are a fan of this blog since its inception then you will remember one of my earlier Blog (rants) on the "Friendlies" that have been taking place in North America in recent years featuring the better Serie A teams.
Reading through that piece now it seems scary because it's as if who ever is organizing the Guinness International Champions Cup, read it as well and took my advice.
Currently I am in the Sunny (gorgeous) State of Florida and will be attending the final 4 games of the Summer Friendly Tournament tonight and tomorrow at Miami's Sun Life Stadium, and could not be more excited.
One of the main things I complained about in the aforementioned year-old blog post was the obscene prices that were attached to friendlies featuring Juventus, Milan, Inter, and Roma in Toronto, New York, and Montreal since 2010.
Last summer to watch a ridiculous lop sided game between Milan and Real Madrid in New York, tickets were from 70$-1000$! For a friendly, which if you watch the highlights of, was more of a romp. In Milano for 20 euros you can watch Milan play in the historic San Siro stadium in a game that actually has relevance and is not just a warm up.
How much are tickets for the Guinness International Champions Cup you ask? Starting as low as 60$-350$ (dependent on seating selection) you get a pass to attend all four games in Miami tonight and tomorrow featuring Juventus, Inter, Milan, Chelsea and Real Madrid! If you got the lowest package for 60$ would have you seated in the upper bowl (still a great view) and your paying 15$ a game! Now that's Winning!
My next argument (complaint) was the fact that all these games have no meanings, yet the marketers attempt so hard to sell these games as more than what they are....a warm up and test for Managers to see what changes they need for the upcoming season.
And again the Guinness International Champions Cup listened, they created (albeit not a prominent) Trophy, that the teams announced for the tournament would take part in.
Although Juventus and Inter may have played like they were ready for the first flight back to Europe, you couldn't tell me that Real, Chelsea and Milan weren't trying to win this trophy.
Kudos to the organizers for doing the best they could to make these games interesting.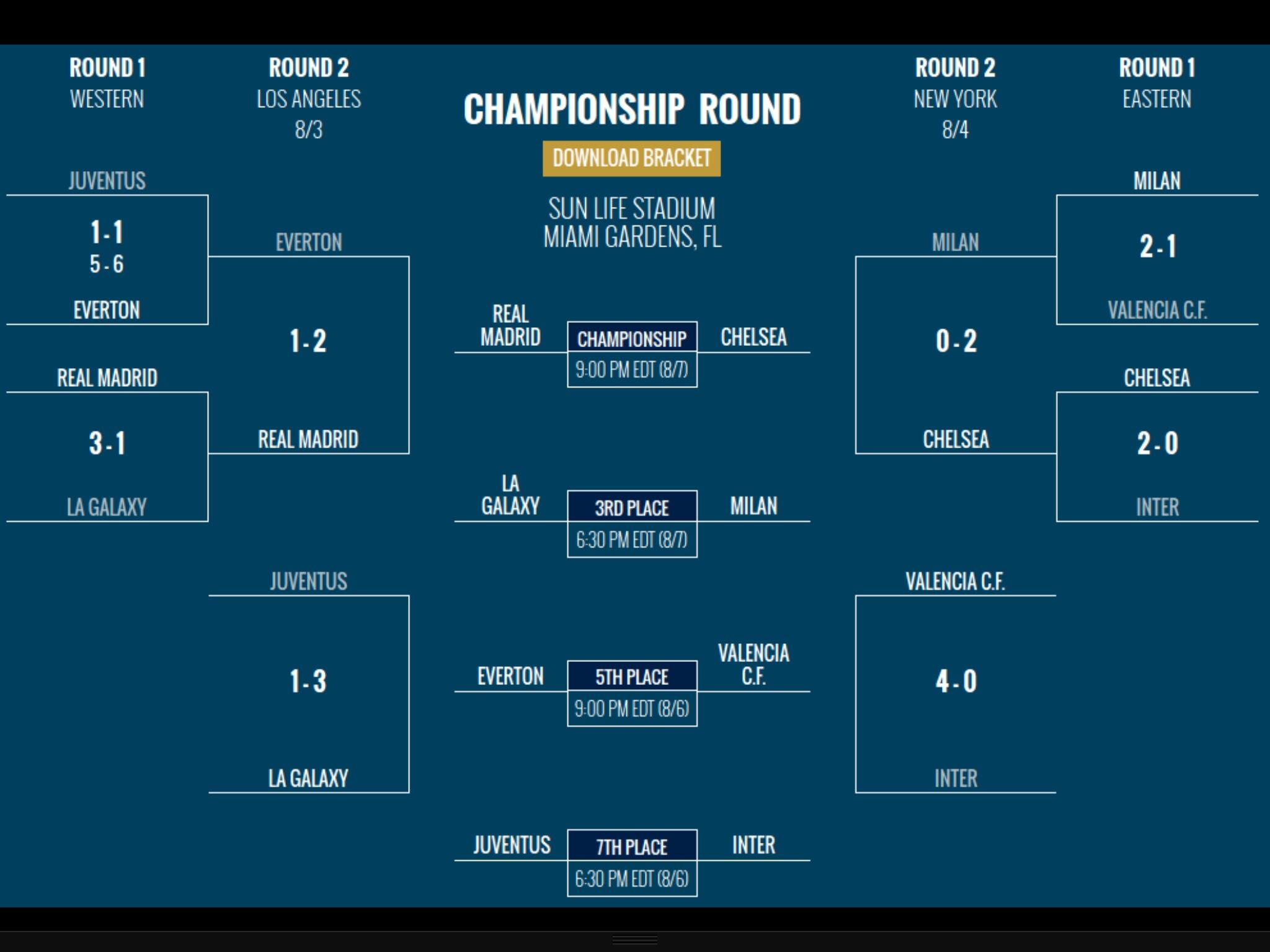 How the Tournament has worked itself out
And finally the atmosphere and climate of the city. Having been at the Everton/Chelsea/AC Milan practice at Sun Life Stadium last night, (more on that in a future post) I got goosebumps. The decorations around the stadium and the city of Miami itself right now are a constant reminder that some of the Worlds biggest soccer clubs are in the 305 and its GAME TIME!
Last year, I asked for more meaningful matches and affordable prices; Guinness International Champions Cup so far has delivered.
All in all if you are a Calcio fan and never seem to make it across the pond anymore (life myself), look out for the news of next summer's Guinness International Champions Cup. Reports already suggest that it has been a really good tournament (financially) and there will be a second edition. The final games have not even taken place yet and I am already recommending this tournament to all my calcio-fanatic buddies.